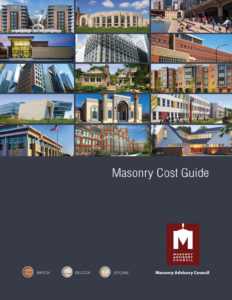 Masonry Cost Guide 2019
Pre-Order your Masonry Cost Guide. 
The Masonry Advisory Council is pleased to announce that we are in the final stages of completing this useful cost guide for the masonry industry. It provides a general price structure for masonry materials, detailed mechanical drawings, and other resources to help you to better estimate costs for building masonry structures.
The Masonry Cost Guide is Complimentary to licensed, registered Architects and Structural Engineers in the Chicagoland area and NW Indiana only.
Other industry professionals can purchase this cost guide by filling out the form below. We will email you a link to purchase your copy.
Note: This Masonry Cost Guide has been computed using resources and pricing models for the Chicagoland area and NW Indiana. It should not be used as a price guide for other regions or states.